Build a great team with female tradie power!
With a record unemployment rate and skills shortages everywhere, don't miss your opportunity to find skilled female tradies to enhance your workforce! Australia's trades sector is rising to the challenge as more and more employers engage with skilled, driven women to join a growing sector of our workforce.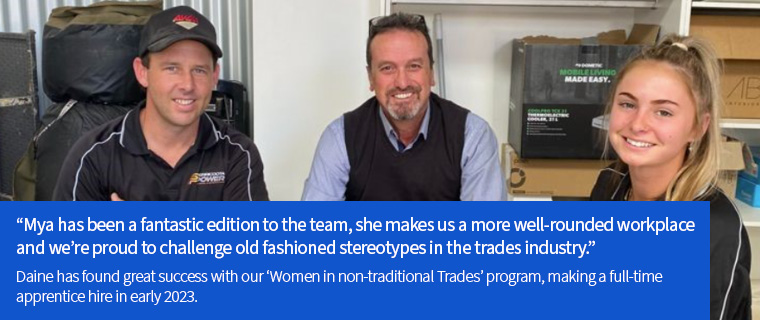 Mya Warde had always been interested in trades, probably thanks to her family history. Her Dad, uncle, brother, and first cousins are also tradies, and Mya was keen to follow in their footsteps. A year-long stint of work experience while she was in Year 10 with a local electrical business, Perricoota Power, was just what she needed to 'test the waters'. 
It was enough for Mya to decide she knew her perfect career path. Once Mya completed Year 10, she contacted Daine, Perricoota Power's owner to embark upon her career (and passion) for the trade. Daine was thrilled to offer a full-time apprenticeship position to Mya.
Now, Mya is kicking goals as she continues her Certificate III Electrotechnology Electrician apprenticeship. She has found a job she loves, with a supportive boss, and is on the way to her first trade qualification! 
Looking for an apprentice just like Mya? It starts with Career Hub!
Our Career Hub service can help you write the perfect job ad and post it for free online to our Jobs Board. We can even help with interview tips and how to screen the best applicants for any role.
Support, coaching and more: the benefits for business
Get ahead of other businesses by adding women to your recruitment mix, and get immediate access to a wider pool of skilled candidates
Create a more well-rounded team, which will enhance your business as a great place to work and make recruitment easier in future
Our MEGT Mentoring team provides employers and female apprentices with all the support and coaching tools they need to help improve completion rates and gaining the qualifications for their chosen trade.
We offer:
•    Individual mentoring and regular workplace catchups
•    Ideas for ongoing training and skills-building exercises
•    Career pathway advice to identify the opportunities that are available
•    Motivational and wellness checks for both employers and apprentices
•    Connections and introductions to support services for both employers and apprentices
•    Advice for employers about how to support women in the workplace