The MEGT Foundation was created in 2021 with the support of Victoria University, the Department of Jobs, Skills, Industry and Regions (DJSIR) and Learn Local to help provide opportunities for women experiencing disadvantage in its various forms to fulfil their career aspirations by returning to study.
Up to ten scholarships worth up to $15,000 each are available each year. Scholarship funding can be used to study a Vocational Education and Training (VET) qualification or to commence the first year of a undergraduate program. Successful applicants also receive one-on-one coaching to help keep them on track and are invited to participate in a scholar's Community of Practice to connect and support them to learn new techniques and skills which may be useful in their studies. These skills can help improve academic writing, goal setting, and even provide stress management support.
In July 2022, a pilot scholarship program was launched to enable scholars to begin a course of study in early 2023.
The applications for 23/24 are now closed. 
Meet our first round of scholars
Meet The Team
Program Details
For more information please read through the below.
The MEGT Foundation Working Group
The Working Group comprises representatives from MEGT's People and Culture, Marketing and Recruitment Management Services (RMS) divisions, in partnership with Victoria University (English Programs) and the Department of Jobs, Skills, Industry & Regions (DJSIR), (Manager - Adult Learning Programs).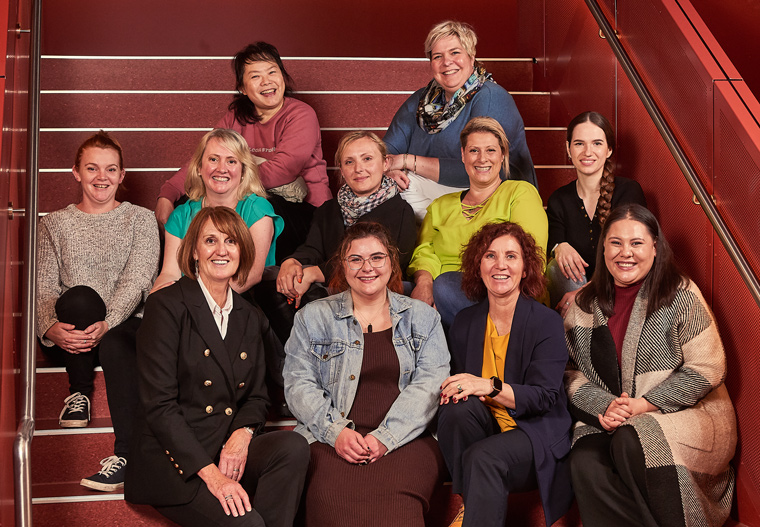 (Left to right) Front Row: Georgina Ryder – Department of Jobs, Skills, Industry and Regions; Beck Packer – Scholar, Jodie Belyea - MEGT Foundation Manager, Tahlia Kotiau - Scholar. Middle Row: Cherie Shepherd – Scholar, Kate Hanson, MEGT Brand & Campaign Manager; Gosia Blasxczyk – Scholar; Mel Flores, MEGT Foundation Admin Support; Anastasiia Horylsavets – Scholar.
Back Row: Zheng Rong – Scholar; Gabriella Zibell - Victoria University. Not pictured: Stacey Johns - Scholar, Susan Jakobi – Scholar, Nick Coe – MEGT, Stella Simmons – MEGT, Arvind Shamar - Victoria University
The Working Group strives to:
Provide industry expertise, advice and feedback on the model, processes and recruitment strategy
Provide expertise relating to the target group, industry, policies, application and enrolment processes and pathways
Risk management via and support the engagement of suitable applicants
Access to free venues for Community of Practice, interviews and annual celebration event
Access to tutors and trainers to deliver training on topics such as academic writing