Objectives of the Division:
MEGT Apprenticeship Network Provider (ANP) is contracted to the Australian government through the Department of Education and Training (DET) to market and administer the Australian Apprenticeship Support Network (AASN).   MEGT ANP offers a free service to employers, potential and current Australian Apprentices (includes apprentices and trainees) by:
providing customised pre-commencement services designed to screen, test, stream and match apprentices (and apprenticeships) to potential employers
completing and lodging National Training Contracts with the relevant State/Territory Training Authority
determining eligibility for participation and government funding
processing where applicable, incentive payments to employers and personal benefits and Trade Support Loans to Australian Apprentices
providing advice to employers and Australian Apprentices on relevant training packages
monitoring the progress of individual Australian Apprenticeships
providing tailored support such as mentoring for Australian Apprentices and employers
attending workplaces to provide support prior to and during the Australian Apprenticeship
---
Objectives of the Position:
This is a key role within MEGT (Australia) Ltd (MEGT) and an integral part of the management of MEGT's ANP Division.
MEGT's Field Operations Managers oversee MEGT Field staff and have the responsibility for delivering the sales and stakeholder engagement activities of MEGT's AASN Contract as specified by DET within their designated region. They are also accountable for the delivery of Progress Contracts that meet and exceed Contractual obligations whilst ensuring that KPIs are met to enable MEGT to capture all fee for service available under Universal and Targeted services. The role will challenge the incumbent to drive and lead the sales, marketing and promotion of MEGT as a quality Australian Apprenticeship Support Network (AASN) provider
In addition to the provision of Universal Services, the Field Operations Manager will lead staff in the delivery of Gateway services which support job-seekers and employers whilst meeting the KPIs necessary to ensure compliance with MEGT's contractual obligations. The Field Operations Manager will also support staff directly and indirectly to deliver In-training service outcomes as required.
This position requires a self-starter who can efficiently manage, implement and deliver strategies to achieve collective targets through driving individual staff to achieve their set targets and KPIs. A variety of duties will provide this person with a challenging and empowering role. Demonstrated leadership skills, a flair for business development and the ability to manage sales and service delivery Face to Face (F2F) contacts is essential. The ability to interact with individuals at all levels, internally and externally, is also critical to this role.
---
Relationships:
Reporting to the ANP State Manager, managing a team of ANP field staff as required
Working co-operatively with other Field Operations Managers, Customer Service Managers and Administration Managers
Working closely with key clients and networking with key stakeholders including devising servicing requirements.
Maintaining relationships with other key stakeholders including the Group Training network, employers, Government Departments, VET training providers, secondary schools and any other services and organisations involved in providing Apprenticeship Network Services.
---
Dimension:
Division: ANP
Employees directly supervised: up to 20
Agreed outcomes: as per Key Performance Indicators (KPIs)
---
Selection Criteria:
proven leadership and management skills including experience leading a team in a sales environment
commitment to providing high levels of customer service to clients
ability to meet and exceed KPIs in a multi-dimensional environment
capacity to manage multiple priorities in a fast pace environment
ability to maximise fee for service by meeting KPIs and contractual requirements
ability to acquire knowledge of new programs in a short time frame and manage staff to deliver results
capability in implementing client retention strategies
experience in, or an understanding of the VET sector will be highly regarded.
demonstrated ability to work as part of team to drive, influence and achieve performance, financial and contractual commitments.
high level of skill with Microsoft products
---
Qualifications, Skills and Attributes:
proven leadership sales management skills, particularly in a sales and service environment
ability to understand MEGT's Gateway and In-training services and deliver services accordingly
understanding the key drivers of fee for service and ensuring that the relevant KPIs are met in this area.
ability to motivate and coach team members to achieve desired sales outcomes
excellent work ethic with excellent role model characteristics
comprehensive knowledge of DET and STA guidelines/procedures
well developed planning skills with the ability to organise, prioritise and illustrate time management skills
a knowledge of Registered Training Organisation (RTO) and Group Training Organisation (GTO) processes and relevant issues in relation to VET system
capacity to use marketing material and procedures effectively, to promote MEGT ANP as the market leader to contact for all apprentice and trainee matters
ability to build a strong network of employers through a variety of methods
demonstrated experience in delivering presentations to medium to large prospective employers/RTOs
excellent communication and interpersonal skills inclusive of good written communication skills including accurate spelling and grammar
ability to represent MEGT in a confident, professional and knowledgeable capacity
ability to develop and implement change management strategies
high level analysis skills and the ability to develop and present reports for senior management
relevant management qualification or industry experience desirable
minimum of intermediate level of skill with Microsoft products
well presented with a professional, confident and friendly image
current driver licence.
---
Duties and Responsibilities:
Develop, implement and maintain strategic sales plans for the region to win, grow and retain business
Develop and implement sales and business development plans
Develop internal and external engagement and communication strategies in relation to business development
Develop client growth and retention strategies
Ensure key territory clients are appropriately assigned to sales staff and are account managed
Analyse and maintain all relevant data and information systems as required ensuring accurate and up to date information for reporting to MEGT, DET and State Training Authority.
Ensure all Field staff can competently and compliantly, assist employers and Australian Apprentices with the completion of a Training Contract, incentive claims, personal benefit claims and Trade Support Loan Applications
Manage and lead an ANP team to achieve KPIs
Manage a team of field staff to provide Gateway, Universal and In-Training services
Implement strategic marketing plans, in consultation with the State Manager
Manage and mentor individuals to achieve sales KPIs
Manage staff to ensure Progress Contacts (F2F) targets are met within the region and the ability to collect fee for service is maximised
Performance manage staff where performance issues are identified
Ensure that the team meets all the performance indicators and timeframes established and complies with the legislative and regulatory requirements by supervising staff performance and monitoring performance against the required indicators
Visit Hubs on a regular basis and communicate effectively in-between visits
Liaise with ANP Customer Service Managers as well as Administration Managers and follow up with individual staff if any areas of concern arise
Attend ANP State Management Meetings and deliver prepared reports on the region's activities
Work collaboratively with the state and national team of Field Operations Managers to identify and create opportunities within the state and across multi states.
Monitor Key Performance Indicators and advise ANP State Manager immediately of any concerns.
Market and promote Apprenticeships and Traineeships
Perform marketing activities to medium to large state based clients
Understand the complete range of products offered by all Group Training Companies, ANPs, Employment Providers and Registered Training Organisations within MEGT AASN regions
Maintain marketing databases for the promotion of MEGT ANP activities and support any national marketing campaigns
Maintain and encourage stronger links with schools, TAFE colleges and other educational organisations
Ensure that all VET providers are familiar with MEGT ANP services
Develop and maintain links with local schools and other key stakeholders to actively increase AS-bA participation and completion
Develop and maintain links with providers of training in the VET sector to ensure MEGT ANP is seen as the market leader of these services.
Market and promote MEGT ANP services to all Industry Skills Councils, Government Bodies (DET Centrelink, and STA etc.) to ensure an appropriate level of activity in all AASN related issues
Ensure stakeholders view MEGT ANP as the key provider in the regions serviced under the DET AASN contract
Attend regular meetings with local Centrelink and STA offices promoting joint activities where appropriate.
Understand all major programs and relevant issues in relation to AASN apprentice and trainee matters
A complete understanding of the Australian Apprenticeships system is an essential part of this position
An understanding of Training Contracts, Industrial Relations, Training requirements, Employer obligations, and Apprentice / Trainee obligations is required in this role
An understanding of all Commonwealth Government incentives guidelines is required
An understanding of probation, suspension and all other legalities is required.
Ensure business and regional targets are achieved
Facilitate and develop efficient and effective account management practices across the team that support and enable clients to easily work with MEGT as their provider of choice
Understand and support the sales process to win and grow new business opportunities and pass this knowledge to Apprenticeships Field Consultants.
Ensure that activities take place to maximise FFS within the region
Understand all administrative requirements and impacts for clients and assist staff to navigate through the sales and sign up process
Ensure that targets are met within Gateway and In-training services
Ensure an at fault return rate of less than 4% of Training Contracts is achieved for the region
Ensure budgeted targets are achieved for staff in the region/team
Liaise with relevant administrative staff as required to provide appropriate levels of client and staff support
Ensure that MEGT is well represented across the region and that all stakeholders/parties that are in contact with MEGT are aware of their obligations and responsibilities involved with Apprenticeships and Traineeships
Note:    This Position Description is indicative of the initial expectation of the role and subject to change in line with requirements of the Department of Education and Training and/or MEGT's goals and priorities, activities or focus of the job. The incumbent can expect to be allocated duties not specifically mentioned in this document, but within the capacity, qualifications and experience normally expected from persons occupying positions at this level. 
---
Key Performance Indicators:
Achieve 100% of budgeted territory sign up target
Achieve 100% of budgeted target in the areas of Gateway services
Contribute to the achievement of 100% of budgeted target in In-training services.
Achieve an at fault return rate of less than 4%.
Ensure Progress Contacts are completed with expiries at under 5%
Achieve an inactive client churn within designated territory of less than 10%
Ensure compliance with AASN Contract requirements is met and no fraudulent activities or complaints are received.
Manage staff and ensure all performance and discipline issues are addressed professionally and promptly or escalated to the State Manager where appropriate.
Display behaviours consistent with a Leadership role
Work efficiently and effectively with other Managers.
---
Health, Safety and Environment (HSE) Responsibilities:
All staff are required to take reasonable care for their own health and safety and that of other personnel who may be affected by their conduct.
---
Police Check:
This position is required to undertake a National Police Check and any State/Territory Working with Children Check (where applicable). The National Police Check must be renewed every 2 years from the date of the initial check as a minimum. A clearance to work with children in connection with the delivery of AASS is mandatory.
---
Diversity:
MEGT is committed to welcoming and maintaining a diverse workforce, which will help us attract and retain a team of talented people to better serve our clients and improve business results.
---
ANP Hierarchical Organisation Chart - Field Operations Manager: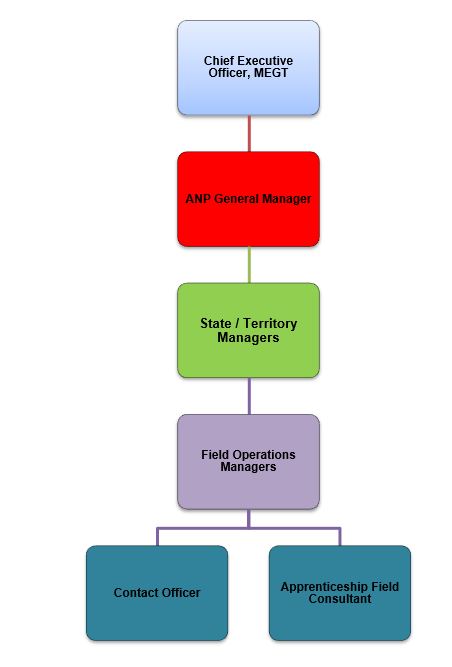 Version 5.0